If you come to Metropolitan Community Church of the Blue Ridge (MCCBR) for the Sunday service, as it was announced yesterday, I will be selling CDs and I will personally sell you a signed copy for $10.00. I will then donate $1.00 of each CD I sell at MCCBR  to MCCBR's Building Fund. I will not be at MCCBR on Pride Sunday (9/22/13) or for the 10/20/13 service because I will be out of town on those dates.

I will be singing a few selections from my album at MCCBR on Sunday, September 29, 2013 at the 11:00 AM service. I will be posting a Facebook event for this as well.

Thanks to all who have already received a copy and for all the kind compliments and emails I've been getting. You've made the three years I worked on the album worth it.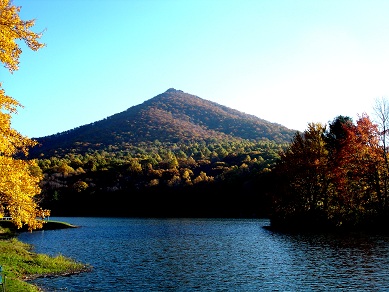 I have always loved Sharp Top Mountain at the Peaks of Otter on the Bedford, VA section of the Blue Ridge Parkway. As a child my parents and I spent many summers going up to the Peaks of Otter for a day by the lake and enjoying a cook out on the stone picnic tables. These trips would always involve taking the bus up to the midpoint of Sharp Top Mountain and hiking up the trail to the top. The windy coolness of the peak was always welcome to beat the summer heat.

Later, as I became older, friends and I would often climb up Sharp Top from the very bottom. I have always felt attached to Sharp Top Mountain, and even on some occasions as I flew home on a plane from various trips, I looked down and could see Sharp Top and the Peaks of Otter Lodge from the air.  I felt as if they were welcoming me home.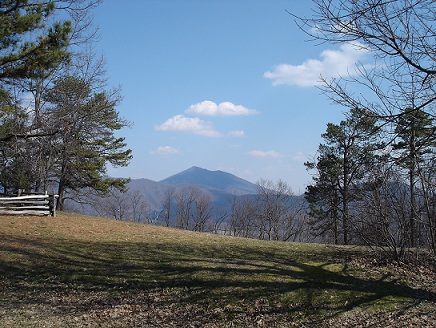 My attachment to Sharp Top is the reason I used my photo of one of my favorite views of Sharp Top from the Boblett's Gap Overlook (right) on the Parkway as the interior photo of my album, "Debut of a Lifetime".  This is not the first time the photo has been published. It was originally published in 2010 by Emilee Hines in her book "Mysteries and Legends of Virginia".  This is however the first time the photo has been published in color.
I cannot begin to tell you how may photos I have taken of Sharp Top over the years. I still have some taken with my old Kodak Instamatic camera when I was a kid and of course many taken later with digital cameras.
My fondness of Sharp Top Mountain has been with me nearly all of my life and even recently I found out some history of the mountain I had never heard before regarding the 1943 B25 plane crash. The mountain holds many secrets, but one thing is for certain, I just love it.